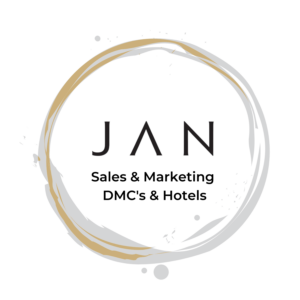 Ondersteunen, adviseren en organiseren dat is wat onze DMC partners lokaal het beste kunnen. JAN Tourism Consultancy is een sales & marketing bureau waar reisagenten/ eventmanagers en de DMC centraal staan. Onze kracht ligt in het meedenken en begeleiding vanaf de aanvraag tot aan de uitvoering. Alle aanvragen, klein of groot worden met uiterste zorg en behandeld.
Wij staan garant voor het ondersteunen en organiseren van incentives, events, zakelijke reizen, feesten, jubilea en congressen op onze bestemmingen in Europa, het Midden Oosten, Afrika en Zuid Amerika.
De volgende partners zijn aangesloten bij Jan Tourism Consultancy
Amazing Morocco
King DMC (Italië)
Orient Tours (VAE)
High Sun DMC (Portugal)
Dream Africa Tours (Kenia)
OS Travel & Tours (Israël)
WanderLust Egypte
MacSun Travel (De Balkan)
Travelconnections Maldvies
Trans India Holidays
Al Maamari Tours (Oman)
QIncentives DMC (Turkije)
Zanzibar and beyond safaris (Tanzania)
Waarom JAN en zijn DMC partners?
Ondersteunen vanaf het eerste concept tot na de opdracht
Klein of Groot? Alles tot in de puntjes geregeld
Financiële gezonde internationale lokale partners met een aanspreekpunt in Nederland/België
Samenwerking, goede service en resultaat staan centraal
Wij zijn enthousiast, service minded, hebben een duidelijk doel en zorgen voor een samenwerking waarin het verschil gemaakt kan worden.